Locally Roasted Seattle Coffee.
The bean has arrived. Once a mere commodity, coffee beans in the past decade or so have been treated like wine grapes—coddled, encouraged and coaxed into their full potential. Now, more than ever, the coffee bean's pedigree is everything.
Browse through our delectable selection of Cinnamon Glazed
Almonds

and

Pecans.
Coffee Store In Seattle Center
Welcome to
Ceres


Roasting Company
One should not attend even the end of the
world without a good breakfast
Since its inception in 2008, Ceres Roasting Company has been small-batch roasting gourmet cinnamon glazed almonds and pecans at several locations in Seattle, including CenturyLink Field, KeyArena, and our flagship store at the Seattle Center Armory.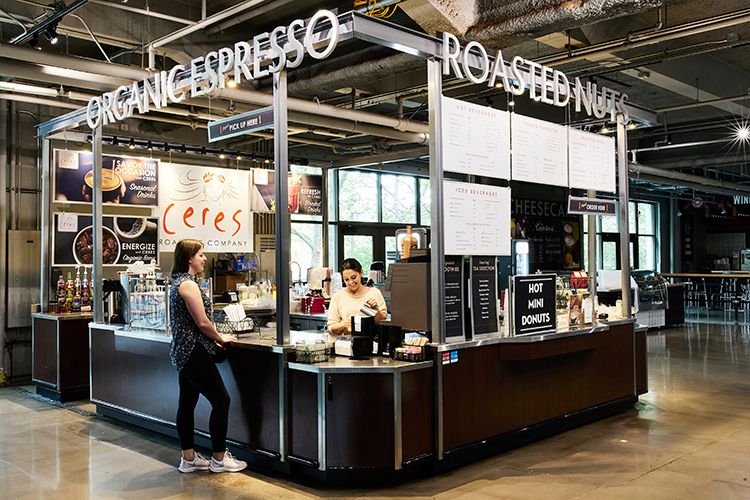 8 oz Cinnamon Glazed Almonds Cone

$

9.35

—

available on subscription

12 oz Cinnamon Glazed Almonds Package

$

16.50

—

available on subscription

1 Pound Cinnamon Glazed Almonds Clear Bag

$

17.60

—

available on subscription

2 Pound Cinnamon Glazed Almonds Gift Box

$

37.80
8 oz Cinnamon Glazed Pecans Cone

$

11.00

—

available on subscription

12 oz Cinnamon Glazed Pecans Package

$

19.80

—

available on subscription

1 Pound Cinnamon Glazed Pecans Clear Bag

$

20.90

—

available on subscription

2 Pound Cinnamon Glazed Pecans Gift Box

$

39.80
12 oz Premium Organic Coffee

$

14.99

—

available on subscription

24 oz Premium Organic Coffee

$

26.00

—

available on subscription

5 lb Bulk Premium Organic Coffee

$

70.00

—

available on subscription

Highest Quality
Products

No Compromise
On Health

Giving Gifts
Made Easy
See For Yourself
@ceresroastingcompany

This place is great, the coffee was amazing and the food was wonderful.  Service was top-notch.  I would much rather go to this place than any Starbucks.

Great service and super friendly staff! They make awesome espresso drinks especially caramel macchiatos. I tried their candied nuts too and they are amazing! If you are at the Armory in Seattle and want a great cup of coffee definitely go see these guys over Starbucks!

Love their NUTS !!!! They are amazingly delicious. Cinnamon glazed almonds and pecans! Not to mention the coffee is a great pair! Would definitely recommend it to any coffee and nut lovers!

OMG. These nuts are the best confection nuts I've ever had!  The pecans are like manna from heaven. Although manna, I'm sure, was not as delicious as these nuts.

Chelsea J.

Mother & Professional Artist